GPeC Trainings goes to Cluj, Profit TV is launched, Romanians order from the beach
GPeC Trainings goes to Cluj
The second edition of the 3-day e-commerce intensive course series is coming to Cluj, October 17-19. Six of the best experts in Romania reunited to offer you exclusive insights, trends and advice about starting or growing you online business.
The courses will cover marketing, usability, Analytics, legal issues etc. Everyday, the trainers will offer participants 6 hours of knowledge, exercises and discussions. Informal networking will continue during breaks and at dinner.
→ More details and registration, on the GPeC website
---
Profit.ro launches its TV station
The new TV channel launched in the Digi and UPC networks, as the only business TV station in Romania. The new channel promises to offer useful advice for business people, economic education and tips and tricks for young entrepreneurs.
Profit TV is part of the Clever Media Network corporation, a company that also manages Looksport, Lookplus, Lookmedica and Agro TV. The new TV channel will have various TV shows and 3 news programs – at 1:30, 4:30 and 7:30 PM.
---
More than 5,000 Romanian merchants sell their products on eBay
Almost 130,000 customers in Romania bought products on eBay in the last year. More than 5,000 Romanian merchants sold in the first seven months of this year almost 192,000 products on eBay, one of the largest e-commerce platforms in the world, with 175 million buyers in 190 markets.
The best-selling products are those from categories such as video games and consoles, watches and jewelry, auto parts and accessories, cell phones and accessories, fashion or health and beauty. For example, a wristwatch is sold every hour and a piece of clothing or a pair of shoes is sold every 30 minutes.
---
A new trend for eMag: ordering online from the beach
In the high summer season, eMag delivered products on the seaside, in record times. Orders placed until noon were delivered the same day and orders places until midnight were delivered the next day and customers could choose their prefered delivery hours.
In July and August, fast delivery services grew by 40%, as compared to 2017. Over 30.000 packages were delivered on the beaches, in hotels and in restaurants. Child products were the most ordered, then beach accessories and IT products.
---
Online shops are present in the most powerful brands top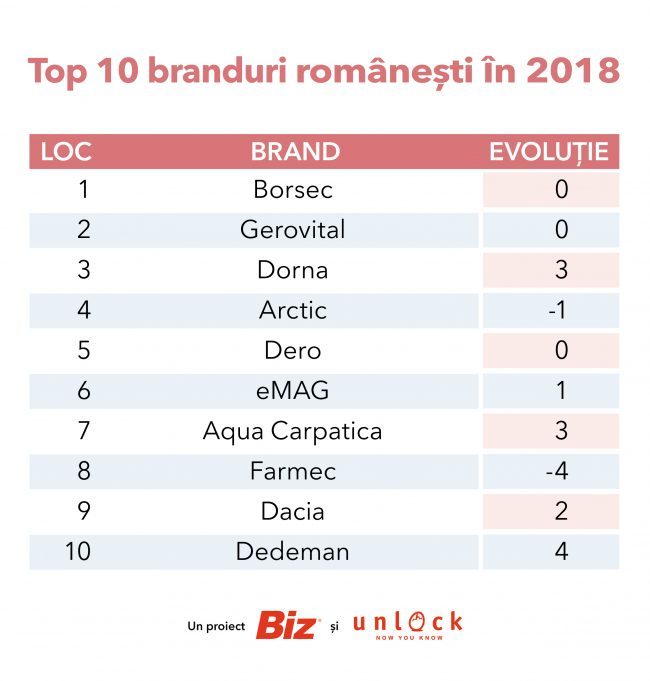 The champion of the most powerful brands in Romania is Borsec, for the second year, in the top compiled by Unlock Market Research and Biz magazine. Gerovital is on the 2nd place and Dorna on the 3rd. Compared to last year, eMag climbed one place and is on the 6th place in 2018.
This year's edition of the list shows coherence and unity and the trends expressed in 2017 are now confirmed. The most important changes come from the alcoholic beverages sector, especially beer, where Romanian brands managed to make themselves more visible and to climb the top.