Do you have an online shop?
Now is the time to optimize it! Sign up for the GPeC Competition and get the most complex eCommerce Benchmark for your website
We are all going through unpleasant times due to the COVID-19 pandemic, but that doesn't mean we have to surrender. We will surely get over this hindrance and we honestly believe that we should use this time wisely to get our engines ready for when the pandemic is over.
Therefore, our advice is to make use of this time interval and optimize your websites to maximize the conversion potential, to receive advised consulting from market experts, to do more research and to structure your business strategy. You can benefit from all of this by registering your online shop for the GPeC Competition.
30 eCommerce & Digital Marketing experts will analyze the online shops signed up for the GPeC Competition using over 200 evaluation criteria: 
User Experience

- website ergonomics on both Mobile and Desktop to ensure an easy and intuitive browsing experience

Website Functionality

- proper and intuitive functioning of all of the website's forms and of the entire Checkout process

Search

- proper functioning of the website search feature, following Best Practices

Mystery Shopping

- testing customer relationship services quality by placing a Mystery Shopping order

SEO

- how well optimized are the online shops for search engines

Security

- client information and database security level following GDPR requirements

E-Mail Marketing

- the frequency and quality of Newsletter campaigns for maximizing Open Rate & Click Rate

Content & Social Media

- the frequency and quality of the website content (Blog etc.) and Social Media posts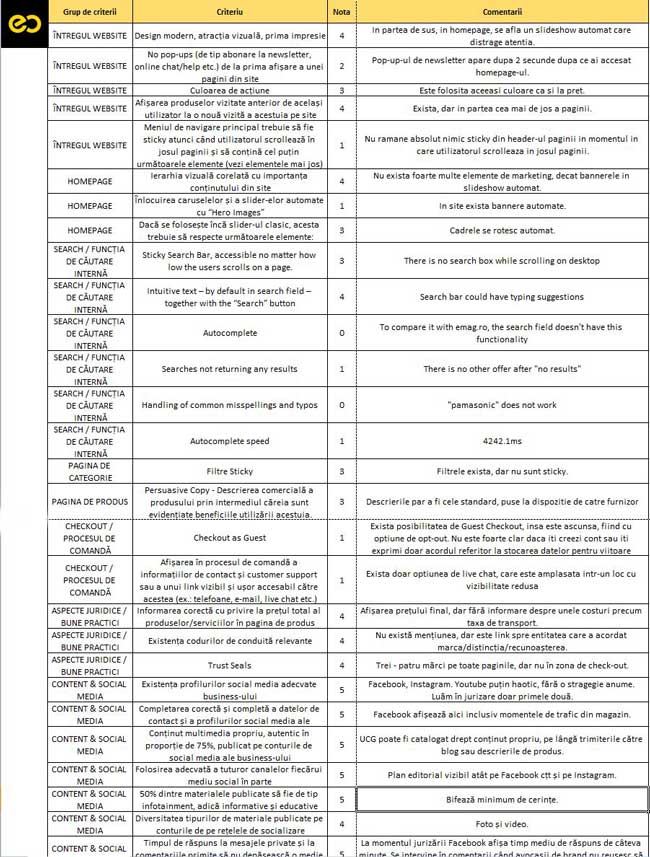 All the online shops registered for the GPeC Competition receive a detailed eCommerce Report for each of the 200+ criteria, as well as advised recommendations on how to fix the reported problems in order to increase the Conversion Rate and sell more. 
Dan Ariely for the first time in Romania
GPeC SUMMIT - The Event of The Year in eCommerce & Digital Marketing
An awesome line-up awaits you at the 15th anniversary edition of GPeC SUMMIT 2nd November.
1 full

Conference

day with some of the most famous local and international speakers (9 AM - 6 PM) -

Dan Ariely for the first time in Romania
GPeC Expo

- takes place at the same time with the Conference and it's and excellent business opportunity environment for online shops and service providers

All day long

Networking

opportunities with the Digital industry elite for C-level participants

Book Signing & Q&A Sessions

with the GPeC SUMMIT speakers and industry key figures

eCommerce Awards Gala

on the 2nd of November, end of day (7 PM - 8:30 PM)

GPeC exclusive After Party

(after the Awards Gala, starting 9 PM)
GPeC SUMMIT is scheduled to take place on the 2nd of November in the Main Hall of the Bucharest National Theatre (2 Nicolae Bălcescu Boulevard).
100%
outstanding
speakers
1
track
so you won't miss a thing
30+
service providers
at the GPeC Expo
E-Commerce & Digital Marketing Resources and Info

GPeC Blog
We do what we love
15 years of 360 eCommerce & Digital Marketing
We are GPeC and for 15 years we've exclusively dedicated ourselves to the Digital industry. We don't do anything else because we cannot be Jack of all trades, so we do what we love: E-Commerce & Digital Marketing. 
GPeC Competition

- the best tool online shops can use to optimize and increase their sales

2 major events every year (

GPeC Immersion

&

GPeC SUMMIT

) with legendary speakers

All year long hands-on

Trainings

in E-Commerce & Digital Marketing

GPeC Summer School

Bootcamp - 5 days of workshops and team building in fresh mountain air

GPeC Awards

- the awarding gala for the best online shops and companies in the industry

GPeC Blog

- useful resources from the best specialists for those interested in E-Commerce & Digital Marketing

GPeC Community

- over 29.000 industry professionals sharing ideas and experiences